LANDSCAPE PHOTOGRAPHY WORKSHOPS - LOFOTEN, NORWAY

Lofoten archipelago is a great treat for anyone interested in landscape photography!
Inspiring and ever-changing landscapes from majestic mountains to coastline with endless breathtaking views
and compositions, fantastic richly textured rocks and sandy beaches, beautiful small fishing villages,
unique traditional architecture and the most amazing Auroras flowing through night sky!
Apart from the popular spots there is much more to see and photograph around every corner...

I am very happy to offer landscape photography workshops in this part of the world
and I hope to see you on board to experience the magic of Lofoten!





AUTUMN IN LOFOTEN / NORWAY

23 - 30 SEPTEMBER 2024

3 SPACES IN INDIVIDUAL BEDROOMS AVAILABLE

£1490 PER PERSON

PLEASE CONTACT ME IF YOU WANT TO BOOK IT



WINTER IN LOFOTEN / NORWAY

8 - 15 MARCH 2024

1 - 2 SPACES AVAILABLE

1 SPACE IN SINGLE BEDROOM
OR 2 SPACES IN SHARED DOUBLE BEDROOM (FOR COUPLE OR FRIENDS)

£1450 PER PERSON

PLEASE CONTACT ME IF YOU WANT TO BOOK IT



WINTER IN LOFOTEN / NORWAY

23 FEBRUARY - 1 MARCH 2024

1 SPACE AVAILABLE IN SINGLE OCCUPANCY ROOM

£1450 PER PERSON

PLEASE CONTACT ME IF YOU WANT TO BOOK IT



AUTUMN ON SENJA ISLAND / NORWAY

Senja island is Norway's second biggest island and offers breathtaking views of majestic mountains,
fjords, picturesque villages, sandy and rocky beaches and unusual rock formations,
a landscape photographer's paradise!

16 - 23 SEPTEMBER 2024

5 SPACES IN INDIVIDUAL BEDROOMS AVAILABLE

£1490 PER PERSON

PLEASE CONTACT ME IF YOU WANT TO BOOK IT



PAST WORKSHOPS IN NORWAY

LOFOTEN / NORWAY
1 - 8 MARCH 2024 - SOLD OUT!

SENJA ISLAND / NORWAY
AUTUMN 2023 - SOLD OUT!
25 SEPTEMBER - 2 OCTOBER 2023

LOFOTEN / NORWAY
AUTUMN 2023 - SOLD OUT!
18-25 SEPTEMBER 2023

LOFOTEN / NORWAY
AUTUMN 2022 - SOLD OUT!
23 - 30 SEPTEMBER 2022

LOFOTEN / NORWAY
AUTUMN 2022 - SOLD OUT!
07 - 13 OCTOBER 2022

LOFOTEN / NORWAY
SPRING 2022 - SOLD OUT!
1-8 March 2022



LOFOTEN / NORWAY

AUTUMN 2020 - SOLD OUT!
6 October 2020 - 13 October 2020
Group size - 5 persons maximum





LOFOTEN / NORWAY
AUTUMN 2020 - SOLD OUT!
29 September 2020 - 6 October 2020
Group size - 5 persons maximum





LOFOTEN / NORWAY

WINTER 2020 - SOLD OUT!
3 March - 9 March 2020
Group size - 4 persons maximum





SPRING 2019 - SOLD OUT!
1 March - 8 March 2019
Group size - 6 persons maximum





AUTUMN 2019 - SOLD OUT!
30 September 2019 - 7 October 2019
Group size - 6 persons maximum





WINTER 2020 - SOLD OUT!
3 February 2020 - 10 February 2020
Group size - 6 persons maximum





PLEASE CONTACT ME IF YOU ARE INTERESTED IN ATTENDING MY FUTURE LOFOTEN WORKSHOPS
AND I WILL KEEP YOU INFORMED WHEN NEW DATES ARE CONFIRMED

The price includes:

- location guidance, photo processing tips and photography tuition from professional landscape photographer
- accommodation in spacious house in Lofoten area (usually Ramberg)
- transport from the Harstad/Narvik Airport, Evenes to the house in Lofoten
- transport from Leknes Airport to the house if you decide to arrive to Leknes Airport
- transport between all locations in Lofoten area during the entire workshop
- transport back to Harstad/Narvik Airport or Leknes Airport on the day of departure

Price does not include flights, meals and drinks.
Everyone book their own flights to Harstad-Narvik Airport, Evenes or Leknes Airport.
Self catering accommodation is the cheapest in Norway and most convenient, everyone buys their food in local shop,
there is a good selection of meals easy to cook/heat up in the house and ready to eat in few minutes
as well as fresh fruits, vegetables, drinks, bakery etc. We can also eat in local cafes/restaurants on few occasions,
all meals are individually paid by each client..

BEFORE BOOKING PLEASE READ AND CONFIRM THAT YOU UNDERSTAND AND ACCEPT
ALL TERMS AND CONDITIONS AT THE BOTTOM OF THIS PAGE.


DIFFICULTY / FITNESS LEVEL

We will not climb mountains or go for long hikes.
Easy to medium terrain with some wet, slippery rocks and uneven ground.
Snow grippers attached to your boots are essential on some occasions,
no spikes/crampons but studs that will let you walk on rocks.
Most locations are within short walking distance from parking places.
Reasonable level of fitness is required.



GETTING READY / CHECKLIST

Detailed checklist will be emailed to all participants in advance
so Everyone can get ready, buy clothes/gear they need.




ITINERARY

After running over 350 workshops to date and many years of photographing landscapes across Scottish Highlands and Norway
I learned that weather is always unpredictable, local and ever-changing and it does NOT care about our itineraries at all!

The best way to run successful landscape photography workshop is to be flexible, work around the weather and adapt to current conditions.
Days will be planned individually during our workshop after checking latest weather and Aurora forecasts so we can be
at the right time and place for best lighting/weather opportunities.

No-one is able to predict or control weather therefore I can't guarantee anything weather-wise or Aurora-wise but I can promise
to help you photographing the best opportunities that weather has to offer during our workshop.



DAY 1

We will meet in Harstad-Narvik Airport, Evenes and depart before 8:00 pm to our base near Ramberg in Lofoten
where we should arrive around midnight. If anyone books flight to Leknes Airport I can collect you in Leknes around 11:00 pm,
on our way to the house.



DAYS 2-7

During the workshop we will visit locations listed below and other lesser known spots between locations
for more unique views and angles. We will also do night sessions when there is chance for Aurora activity
and sky clear enough to see it.

During Autumn workshops on most days we will arrive to locations 45 mins before sunrise for the morning session
and finish after 3-4 hours, drive back to the house for few hours break and lunch.
After the break we will leave house and arrive around 2 hours before sunset at the location and finish 1 hour after the sunset.

During the Winter workshops we will often do one longer session per day with 1 hour break in the middle,
starting before sunrise and finishing after sunset as days are around 8 hours long so there is no need
to drive back to the house in Ramberg.



DAY 8

We will depart early (4:30 am) to arrive to Harstad-Narvik Airport around 9:00 am,
anyone flying back from Leknes Airport will be dropped off there around 5:30 am



CUSTOMER TESTIMONIALS

'It was an awesome trip to the Lofoten Islands with Land of Light Photography. Tom and Adrian were both really
helpful and were always on hand for any questions. I felt that I was able to improve on my skills and try new things
due to the variety of landscape. I would definitely recommend others to go with them to the Lofoten Islands; it was
a trip that had both; the classic locations that Lofoten offers as well as some very unique spots which made the experience
so much more memorable, especially when it came to the aurora on our last night there!'
- Ali Ayaz / UK

'I recently went on the workshop with Land of Light Photography to Norway. Tom provided excellent guidance and communication
prior to this trip, a well organized week of activities and beautiful locations and expert photographic expertise. It was a fun,
challenging week with a great group of people.'
- Cynthia Rees / USA

'My girlfriend and I recently attended the Norway workshop and had an great experience. The locations were stunning,
the workshop was planned well while remaining flexible to adjust to the conditions, and Tom does an excellent job tailoring
his instruction to each person's experience level. Thanks for another excellent workshop!'
- Evan Western / USA



LOCATIONS
SKAGSANDEN
Beautiful sandy beach with individual rocks, groups of rocks, sand patterns, small ponds
with crystal clear water and mountains in background.
Great coastal location for evening / sunset shooting as well as Auroras.




FLAKSTAD AREA
Great rocky and sandy beaches with majestic mountains in background,
plenty of foreground details to create endless compositions, tidal crashing waves
and Sea Eagles flying around...




NUSFJORD
Lovely little fishing village with single houses and traditional 'Rorbu',
surrounded by spectacular mountains and cliffs, also great spot for a
lunch/coffee break in old fashioned Cafe.




VIKTEN BEACH
Beach with some amazingly shaped rocks and small ponds, great foreground details,
village at the foot of majestic mountains in the background, crashing waves,
great coastal location for sunsets...




UNSTAD BEACH
World's most northern arctic surf resort, popular among surfers for its long surfing
waves and sandy beach. If you have wellies it's possible to get closer for some nice
foreground details, reflections and fast moving water...




UTTAKLEIV & HAUKLAND
Popular beaches with amazing rock formations including the iconic 'Eye of Uttakleiv',
lovely patterns in sand, colourful and textured foreground, mountains in background,
another fantastic location for evening and sunset shooting...




RAMBERG AREA
Ramberg is a village with few shops and little harbour surrounded by various beaches, bridges
and spectacular views of majestic mountains in distance, some great hidden spots for shooting
northern lights without the light pollution of street lights and passing cars...




HAMNØY
Little village with popular views from the bridge at Rorbu
(traditional seasonal red cabins used by fisherman and tourists)
and rocky steep mountains, lovely spot for sunrise shooting...




SAKRISØY
Very picturesque little island and village with characteristic yellow cabins and
spectacular rocky mountains beyond. 'Hjell' - traditional wooden racks for drying fish can also be found here,
great spot for a short wander and break at local cafe or bar serving meals made of local fish.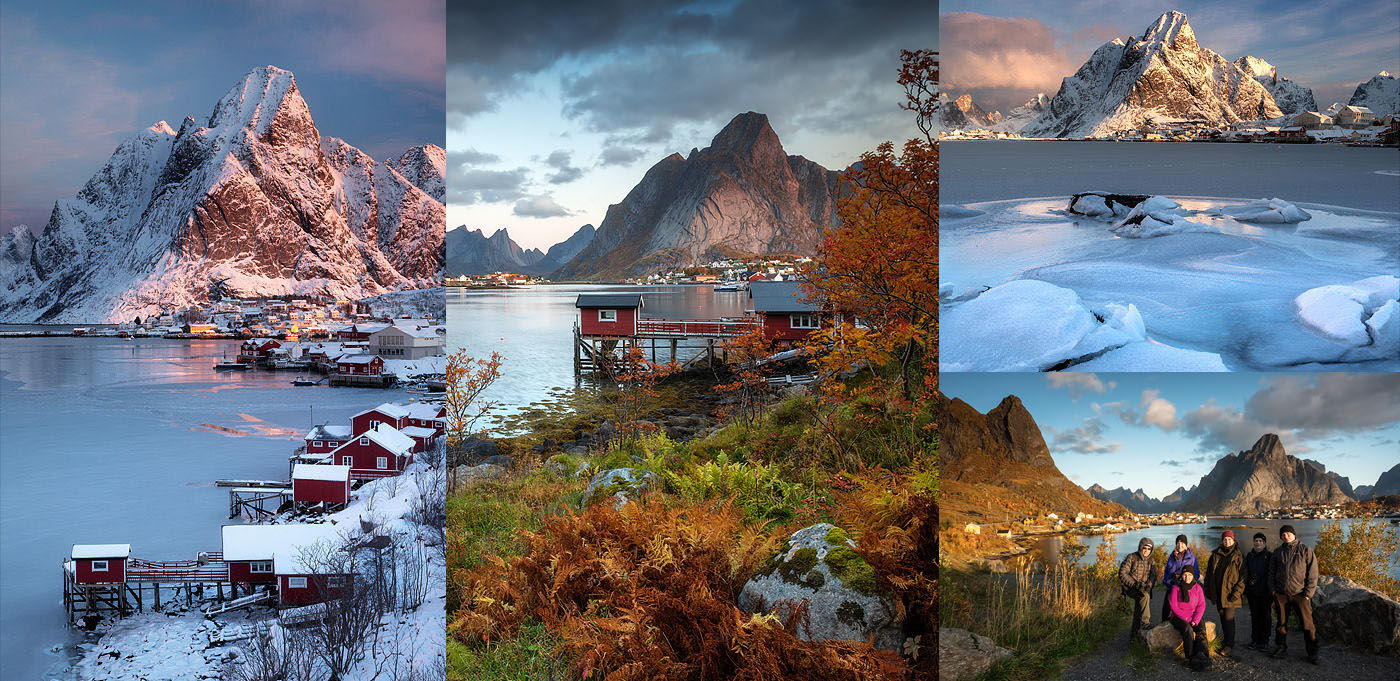 REINE
Beautifully located village surrounded by majestic mountains, great area for sunrise and morning shooting,
breathtaking views just next to parking places.




VILLAGE CALLED 'Å'
Another picturesque little village with traditional red Rorbu, spectacular mountains from one side
and open Ocean from the other side, southern end of Lofoten Archipelago.







TERMS & CONDITIONS

PLEASE NOTE - USE OF DRUGS (APART FROM PRESCRIBED MEDICINE) AND/OR EXCESSIVE ALCOHOL USE IS STRICTLY PROHIBITED DURING ENTIRE WORKSHOP!
ANYONE FOUND ACTING AGAINST THESE RULES WILL BE REMOVED FROM WORKSHOP, TRANSPORTED TO NEAREST BUS STATION OR AIRPORT AND CAN BE REPORTED
TO LOCAL POLICE, NO REFUNDS WILL BE PROVIDED.

SMOKING IS NOT PERMITTED INSIDE THE HOUSE AT ALL TIMES (NEITHER TABACCO CIGARETTES, PIPES, E-CIGARETTES OR ANYTHING SIMILAR).
IF YOU HAVE TO - YOU CAN SMOKE LEGAL NICOTINE PRODUCTS OUTSIDE THE HOUSE.
IF YOU HAVE ANY PROBLEMS WITH THIS - PLEASE DON'T BOOK WITH ME,
SORRY BUT THERE WILL BE NO EXCEPTIONS TO THESE RULES!

Booking & Payment
A non-refundable deposit of £250 is required to confirm booking.
When the total price is paid at once, £250 from the total price makes the non-refundable deposit.
By making the payment customer confirms that he/she read, fully understood and agreed to the terms and conditions.
The final payment is due not later than 2 months prior to the beginning of workshop.
If the final payment is not received in full, booking will be treated as cancelled and deposit will not be refunded.
Bank transaction charges, PayPal fee and/or amount differences from currency exchange rates must be paid by customer prior to workshop.

Cancellations
Cancellations are accepted up to 3 months prior to booked date.
In this case Land of Light Photography will refund the total amount less the £250 non-refundable deposit.
Cancellations requested later than 3 months prior to booked date will not be refunded.
It is recommended to arrange your own appropriate travel and loss/injury insurance when booking the workshop.

Liability
Land of Light Photography / Tomasz Szatewicz aims to provide safe, informative and enjoyable experience during photography workshops and tours.
Land of Light Photography / Tomasz Szatewicz is covered by public liability insurance and has outdoor emergency first aid certificate.
Land of Light Photography / Tomasz Szatewicz is not responsible for any personal injuries, loss and/or damage to property arising from incidents occurring
at the workshop venue. It is the responsibility of the delegate to arrange appropriate insurance against the risk of loss, damage and/or injury.
Land of Light Photography / Tomasz Szatewicz is not responsible for the weather and cancellations/refunds will not be accepted due to 'bad weather'.
If the workshop/tour is cancelled by Land of Light Photography / Tomasz Szatewicz due to personal change of circumstances - a different date will be offered or full refund provided.

In case of national/global crisis such as flood, earthquake, pandemic etc. it may be possible to reschedule workshop to later available date or workshop voucher valid for 2 years will be provided.
Cash refunds (less the deposit) may be possible after Land of Light Photography / Tomasz Szatewicz receives refunds for cancelled flights, accommodation and cars booked for the workshop due to such crisis/event.
It is the responsibility of the delegate to arrange appropriate insurance against the risk of such events.



Copyright Notice: all images copyright © Tomasz Szatewicz 2023
Unauthorized copying, reproduction, use and/or sale is strictly prohibited.
All materials contained on this web site are protected under various laws, including copyright and trademark laws.